Explore Our Conversion Rate Optimization Features CRO is all about aesthetics and user appeal.
Improves Customer Experience
We identify the user journey and create and implement strategies to move them through the funnel faster.
Improves SEO
To combine conversion rate optimization with SEO efforts to create a campaign that ranks and transforms visitors into customers.
Improve Sales
Team Aarav Infotech optimizes your landing pages that will increase website sales and decrease the cost of acquiring customers.
This could be the process you want for your CRO to be.
We keep ourselves upgraded to the latest tools and techniques in web analytics. With our vast experience and latest techniques, we give you insights and viable solutions that fetch instant results.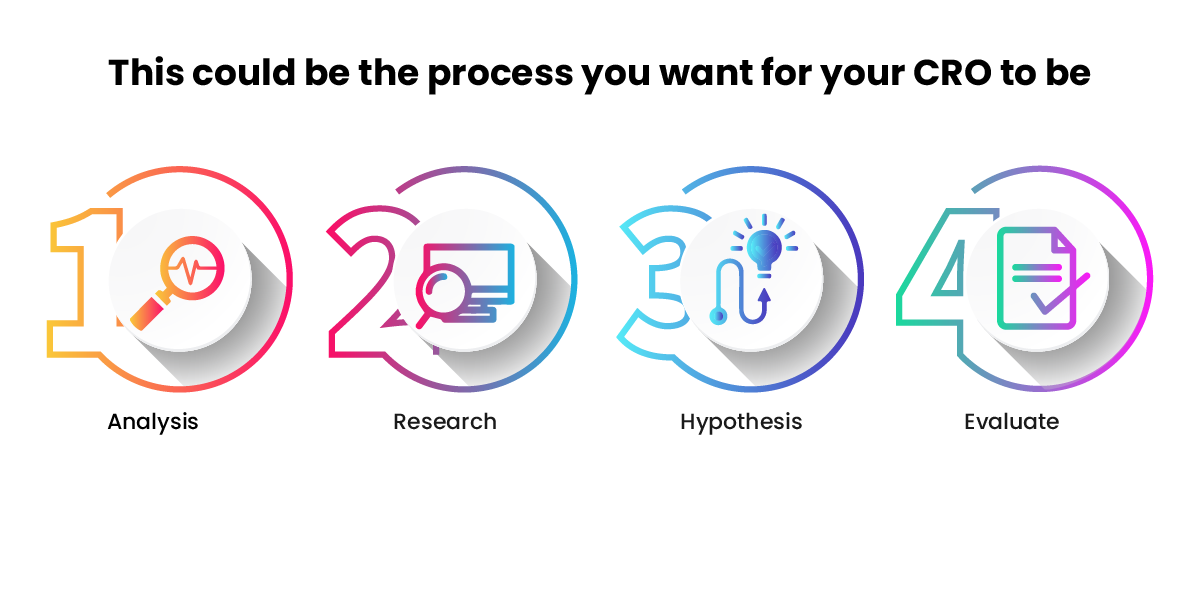 Analyze: In Analysis we check what is the biggest source of your traffic and also the weakest point of your conversion funnel.
Research: We research what is the goal of your website also your business objectives as well as the necessary information that are related to your company.
Hypothesis: All the things that you need to functions on your web pages such as real-time data, plug-ins, animations, games or more, then you should go for a dynamic website everything is decided and accordingly the final project is decided.
Evaluate: Dynamic websites are loaded with innumerable features. If you need a website with user logins or database access, then we can help you with as well as we can promise you to get the best CRO Rates. All the mistakes and website contents are evaluated here.
Benefits of Conversion Rate Optimization
We at Aarav Infotech understand that ultimately it is the revenue that matters to you. That's why we channelize our energies into optimizing your sales and revenue and not just getting high-quality leads.
Customer Satisfaction
With years of experience in design 1000 projects, Aarav Infotech stays far ahead in developing high-quality designs at low costs. As you flip through the assorted projects handled by us, you can get a clear idea of our customer satisfaction.
Identifying New Market
Aarav Infotech builds websites for you keeping new market trends in mind without compromising the design quality of the website.
On-Going Growth
We will create a website that will engage your audience & improve credibility and grow your CRO Rates.
Builds Trust
We have a great team of business managers, web designers, developers, and content professionals. Our talented team pours in their creativity and technical knowledge in every project we undertake, resulting in impressive websites that help us build trust.
Better ROI
With a team of Great people, we can promise you to bring hugely and the best amount of ROI.
Brand Value
We understand the language of web design and development. Our experts can guide you with the right design and security features to ensure Brand Value without hampering the Quality of your page.
A perfect Conversion Rate Optimization
A perfect Conversion Rate Optimized Page will double up your inquiry rate! Let us help you with such an achievement.
Why Choose Aarav Infotech for CRO?
Aarav Infotech is a full-service Digital Marketing and development agency with specialized CRO Strategies.
01. Faster Results
We deliver solutions that yield results at a faster pace and give our clients improved conversions and wider audiences.
02. Well-Defined Strategy
Your Website Deserves a Dedicated CRO Team. With our effective CRO Champaign, you can Generate a High volume of genuine visitors.
03. Increasing Traffic
We derive customized solutions that surpass our client's expectations. Our clients enjoy a good amount of organic traffic and higher conversions.
04. Setting Goals
At Aarav Infotech, we study your profile better and build a distinct goal that leads to the development of a well-structured site.
05. Process In-place
At Aarav Infotech's CRO services are done in view to get optimal leverage from your website.
06. Transparency
A site is customized as per the needs of the client to present the website as per their needs and objectives.
Advantages of partnering with Aarav Infotech for your CRO Project
Our team keeps abreast of the latest techniques to give your conversion, sales and lists a massive leap, no matter what type of online business you are in.
Boosts revenue
Giving your website a new face will infuse new vigor into your website and bring more sales.
Organic Traffic
We create a website that will help you give your customers an ultimate viewing experience and which will bring more organic traffic.
Grows Ranking
We have the best CRO Packages that will help you get organic traffic as well as help you grow traffic on your website.
Customer Loyalty
For many years we are working in this business and it needs a thorough understanding of business objectives, consumer psychology, and industry best practices to gain customers' loyalty and we have successfully gained it.
Visual Appealing
We follow international standards and we designed in accordance with your brand image, your customer's tastes, and preferences that best-looking website.
Competitive Advantage
At Aarav Infotech, we have a team of professionals with a passion for creating an interesting design to keep your customers engaged and keep them coming for more, and to keep you on top of your competition.