Develop your online store with Advanced Feature Enabled WooCommerce Development Services
Effective Store Management.
There are many components that work together to help you run your online store. We support you to manage your online store effectively by setting up your store's backend. Out experts will guide you with utilizing the features to handle payments, orders, shipping, taxes, and more.
Automatic Tax calculations
When you run an online store, there can be too many transactions happening at the same time. Our team will assist you with setting automated tax calculations based on factors such as store location, international shipping partners, and the currency transactions that take place on your website.
Easy Product Management
You may be a B2B store with niche products or an online retail store with a huge product catalog covering diverse product categories. We will understand your needs and accordingly, develop a product management system to efficiently manage product categories on your website.
Instant Stock level tracking
There are so many competing online stores today that you can easily lose customers if you don't have enough stocks. To prevent stock-outs, we can set up stock-level tracking features for your WooCommerce online store. With real-time knowledge of stock levels, you can replenish your stocks on time.
Seamless Inventory Management
Prepare your WooCommerce store for growth with a system that allows the smooth flow of inventory items. Avoid overstocking or understocking of items with our inventory management support. We can also integrate your store with your warehouse in multiple locations and enable multi-channel sales with automatic synchronization of data.
Easy to Use CMS
WooCommerce is backed by the WordPress CMS. You can use the beneficial features of WordPress to manage your WooCommerce store. Run a blog for your e-commerce store or manage the content of your store pages with customized plugins. We can provide customized solutions to build the ideal Content Management System (CMS) for your business.
We simplify the complexity of WooCommerce Store Creation
Developing a complex website requires a clear thought process and the right expertise. We gain clarity of your need then implement a suitable cost-efficient strategy.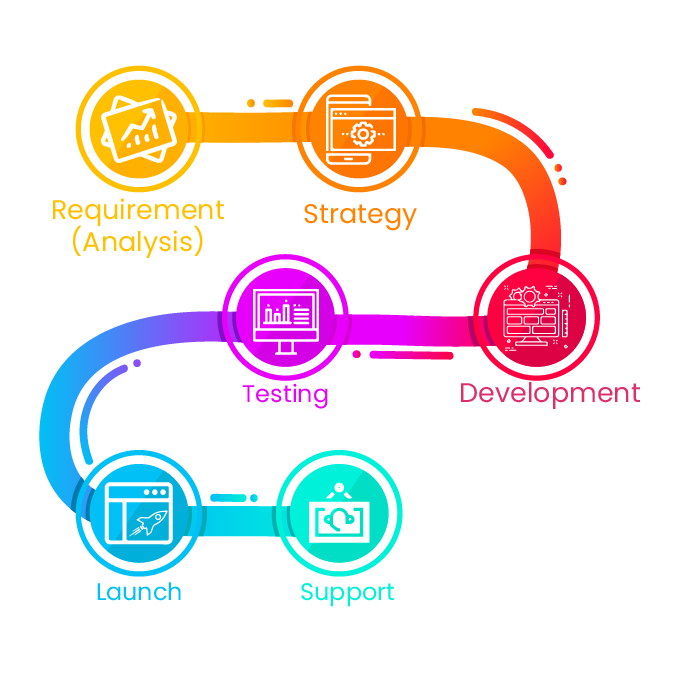 Define Requirement: We begin the WooCommerce development journey by learning more about your requirement. After a round of initial discussions and a study of your current online assets, we analyze the available data and define your exact need.
Strategy: Based on the defined need, our WooCommerce experts explore the possibilities to solve your challenges in fulfilling the need. Your budget is also considered while brainstorming for suitable solutions. Finally, a strategy is created to match your budget and needs.
Development: As per the design and development strategy, the project is executed in phases according to a schedule. If a site migration is required or other integrations are part of the plan, the whole development process is communicated with your team.
Testing: For your WooCommerce website, we'll run the necessary tests to check the correct functioning of features such as shopping carts, payment gateways, etc. Any bugs found on the pages of your site are fixed to ensure an excellent user experience.
Launch: Once the problems encountered in the test results are rectified, our team performs a thorough check of the entire website to reaffirm that the website is built as per your requirement. Then, we go ahead and successfully launch the website after approvals.
Support: Based on the traffic and other technicalities, there are possibilities that you may come across issues after the website launch. Also, you need to run website maintenance to keep it up-to-date. We can provide the required support to run your website smoothly.
Get The Desired Feel And Functionality Of Innovative WooCommerce Website Development
Set up your online business with WooCommerce development. Enjoy impressive features to create designs and functionalities that your customers will love.
Customized designs

We make your unique website by tweaking the impressive collection of themes.

Lots of flexibility

We utilize extensions and plugins to get the most flexible store for you.

Mobile Friendly

Enable easy shopping across devices for your tech-savvy on-the-go shoppers.

Secure online payments

Enjoy simplified and secure payment processing systems on your online shopping website.

Easy Migration

Use simple tools to migrate from an existing site to WooCommerce.

SEO Benefits

Boost SEO rankings for your website with WooCommerce's SEO-compliant features.

Best for WordPress

Enjoy the amazing robustness of WordPress that gets inherited by WooCommerce.

User-friendly Statistics

Review online sales with user-friendly features to manage online store statistics.

Beneficial Apps

Add required functionalities to improve your online store with WooCommerce apps.

Customized Offerings

Provide tailor-made experiences with location customization features and more.
Build your unique WooCommerce store with our experts
From theme customization to step-by-step development, our WooCommerce experts assist you to build your unique online store from scratch. We can help with WooCommerce migration too.
Enjoy Professional Quality Services With WordPress And WooCommerce Website Experts.
Our team of WordPress and WooCommerce experts collaborates with your team to offer high-quality services with a professional approach.
Professional Experts: Our team members are certified, website experts. We are appreciated by reputed online businesses and retailers for our professionalism.
Quality Commitment: We are capable to keep up with client requirements by providing uncompromising quality. Our client work portfolio talks about our strong commitment to project delivery.
Cost-effective Solutions: We understand that businesses have a budget allocated for growth efforts. That's why you'll find our services cost-effective when compared to the ROI.
On-Time Delivery: Time is critical for clients as well as for our teams. We follow realistic timelines to ensure timely fulfillment of our commitments We ensure that we meet our deadlines.
WooCommerce Specialize: We have website experts who understand the nitty-gritty of WooCommerce. That's why we can confidently call ourselves WooCommerce specialists.
WordPress Specialize: Our team has been building WordPress websites for years for diverse businesses. Our rich experience makes us specialists in WordPress e-commerce websites.