The most common question that consumers ask business owners these days is this: do you have a website? Times have changed and if people cannot find you on the world wide web, then you might as well be out of business. E-commerce has developed immensely over the past years leveling up the competition among entrepreneurs from all over the globe. A team of business strategists and E-commerce specialists are required to keep the business afloat. They work day in and day out to come up with strategies that will attract organic traffic to your E-commerce website. We listed 10 of these strategies below:
It's All About Speed
According to Google, a page must load in less than 4 seconds. Anything beyond that and you can kiss your potential customer goodbye. People no longer want to wait too long to access the content that they want. Web Page Test and AMP project are two of many free tools that you can use to identify factors affecting your page speed.
Be Specific with Product Descriptions
It is always tempting to copy and paste product descriptions. When you're selling a hundred items on your E-commerce website, you hit a block at some point and it becomes difficult to describe simple items. To solve this issue, take a break from writing the product descriptions, go outside, walk for ten minutes, and let your mind rest. If you succumb to the temptation of hitting Ctrl+C and Ctrl+V, your customers will lose interest in your products.
Ask Customers to Leave a Review
Invite customers to post their reviews on your E-commerce website. Most buyers read reviews first before making any purchase. If there are negative reviews, let them be because that makes your site authentic and genuine. It also shows how honest and transparent you are with your customers. This strategy is simple but highly effective when generating organic traffic.
Keep it Simple
Keep your target customers in mind while working on the website. One way to ensure a quality user experience is by keeping things simple. This means placing all buttons and links in areas they can easily see. The last thing you want to happen is to see a customer leave your website because they couldn't find the home button.
Focus on Link Building
Link building is a surefire way of improving the SEO of your E-commerce website. The number of links that you have is related to the number of site visits, which boosts your conversion rates. In link building, you need to make sure that you are developing the right content strategies and outreach techniques. This will help you to build quality links more easily and boost the visibility of your landing pages and website as a whole.
The Importance of Social Media Share Buttons
It's a known secret that social media plays a huge role in the success of a business. Place social media share buttons on the product pages of your E-commerce website so people can easily share any information directly from your website. As a result, search engines can easily rank the website.
The Role of Community Forums
Create community forums and allow your customers to interact. Give them the freedom to share their experiences and feedback on the products that you offer. Remember, it only takes one happy customer to make a business successful.
Images are Key
Take photos of the product from different angles to give the customers a clear picture of what the product looks like. People want to experience the product before buying and they will appreciate seeing photos captured from various angles. You can even show convincing statistics, comparisons of products, or comparisons from competitors through images or infographics on your website. Creating infographics is now easy with the use of online tools like Canva. A new way is always better and this is what infographics or images bring in.
Put Premium on Security
Your customers will type in their credit card and bank account information when making a purchase. Protect them by keeping your site safe from hackers. Your website must have an SSL certificate and HTTPS encryption so your customers will feel confident and secure.
Be Consistent when Updating the Pages
There is nothing more irritating than seeing an Error 404 message. If products are out of stock or outdated, remove them from the website. Pages that are updated easily boost organic traffic. Speed and consistency are crucial in attracting organic traffic to your E-commerce website. Customers know if you are going the extra mile for them. They will show their appreciation by purchasing and sharing your website with their network. It is a fact that e-commerce business has unique challenges and hurdles than other kinds of websites and in this competitive world, it is important to grow and stand out from the crowd. Thus the above-mentioned strategies can work for you if implemented immediately and in an ethical way.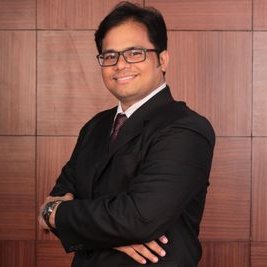 Written by:

Jitendra Raulo

Jitendra Raulo is the Founding Director at Aarav Infotech India Pvt. Ltd., a leading Web Design and Digital Marketing Company with 11+ years of experience and having headquarter in Mumbai, India, and Support Centre at Bhubaneswar, India, he is actively working with Start-ups, SMEs and Corporations utilizing technology to provide business transformation solution.