Improve Your Website Processes, Security, Appearance, And Functionalities With Our Magento Development Services.
Customization And Integrations
Magento offers integrations that can connect your website with third-party solutions in Accounting, Product Information Management, Enterprise Resource Planning, Customer Relationship Management, and more. Also, customize themes, plugins, etc. as required with Magento. Our experts can perform the required integrations and customizations for your business.
Secure Ecommerce Platform
Magento Commerce and Magento Enterprise come with impressive security features. Magento 2 boasts of risk-free security features such as Two-Factor Authentication (2FA), secure admin login, reliable backup plans, and more. We assist you to take advantage of Magento's security features for e-commerce companies with our Magento development services.
CMS Powered By Magento
You can manage your website pages with the user-friendly Content Management System (CMS) powered by Magento. Create rich content for your e-commerce sites and run content marketing campaigns with the CMS features offered by Magento. Our team can set up the CMS for your online business sites as per your business goals.
Feature-rich SEO Friendly
Magento provides several capabilities to optimize your website and make it SEO-friendly. You can tweak the features to improve the optimization of your website for search engine crawlers. We have SEO experts who understand the Magento platform to support you in harnessing the potential of Magento's SEO capabilities.
Easy Product Management
Magento is known to be an effective platform for web stores. We can help you to utilize Magento's product management features to filter products, edit product categories, create product reports, etc. Our team will install the correct extensions on your Magento site that are in line with your store structure and nature of products.
Fast Loading Store
Page loading speed impacts the profit margins of e-commerce stores. Customers may change their buying decision if your product pages and order placement pages load slowly on their devices. Magento is packed with store optimization features to make the customer experience better with quicker page loading speed.
We Make Successful Magento Website Development Projects
From careful planning to step-wise development, we ensure delivery of value by following a systematic process to complete Magento projects.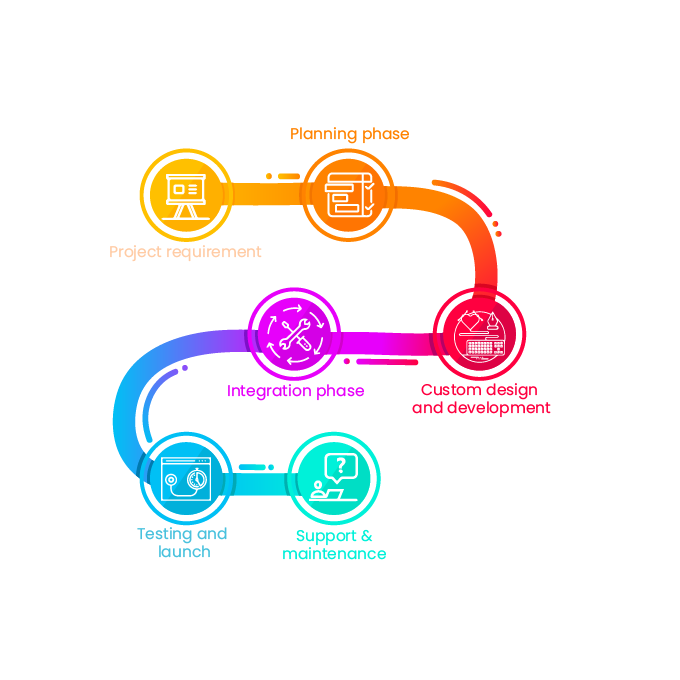 Project Requirement: Our Magento project managers will discuss your requirement and take notes on the purpose of the project. You may want a new website, rebuild an old website, or need a Magento migration. Our team will grasp the precise needs at this stage.
Planning Phase: In the planning phase, our Magento experts will start thinking of solutions to meet your requirements as per your budget. A project plan with timelines will be shared with your team for approval.
Custom Design and Development: After the approvals, the design and development of your Magento website will begin. The customizations (For example Personalized customer accounts, One-click checkouts, etc.) will be created as per the project scope presented in the approved project plan.
Integration Phase: At this stage, integrations finalized in the project plan will be added to your website. These can be shipping integrations, payment gateway integrations, marketing integrations, etc. The progress of the project will be communicated as per scheduled reporting guidelines in the project plan.
Testing and Launch: After adding all the website customizations and integrations, it is time to test these components. If there are any errors or bugs during testing, they are promptly resolved by our team. Then, we go ahead and launch your Magento website successfully.
Support & Maintenance: Your Magento website requires regular maintenance and monitoring to continue to function smoothly. You need to service your car as per your usage whether it is new or old. Similarly, our Magento maintenance services monitor and manage support for your website.
Scaling Up Is Easy With Powerful Features Of Magento Web Development Services
Take advantage of one of the most versatile platforms to manage multiple sites with our Magento development services.
Exclusively for e-commerce

Enjoy success with Magento, a preferred platform for e-commerce websites.

Innovative designs

Customize themes to put up an innovative and eye-catching site design.

SEO Edge feature

Rank higher with the search-friendly features of Magento.

Suitable for kinds of business

Shape your store as per your business persona with Magento.

Flexible & Scalable

With the versatile Magento, experience flexibility and scalability in site development.

Responsive Configuration

Enrich user experience and win customers with responsive theme choices.

Mobile-friendly nature

Enable site access across devices with the mobile-friendly Magento platform.
Grow your business with a customer-friendly Magento store
Collaborate with us for building a Magento store with purposeful design and valuable functionalities for customers. Let's create a website management workflow that works seamlessly with your existing processes through meaningful integrations.
Our Magento Development Expertise Is Incredible.
We have in-house certified Magento experts and notable industry experience in delivering successful Magento development projects for numerous clients.
Committed Team: We are a strong team of designers, developers, SEO experts, and online business experts who are committed to solving your e-commerce growth challenges.
Quality Assurance: As an ISO-certified business, we aim to support you with innovative ideas and consistent performance through resulted-oriented website solutions.
Certified Developers: We hire certified Magento developers to deliver solutions that can give you the most out of the complex yet high-performing Magento platform.
Customer Support: Enjoy 3 months of reliable customer support with our Magento Development Services. Our team will gladly help to resolve your website's technical issues.
Magento Specialized: We have successfully built and managed Magento websites for various clients. Our team members are specialists in handling Magento development projects.
Magento 2 Experience: Our Magento specialists are well-versed with Magento 2. We can help you with Magento 2 migration or development as required.