Digital Marketing has grown over the years with innovative ideas and cutting-edge technologies. Traditional marketers have evolved into intelligent digital marketing service providers. They have openly accepted the online marketing medium due to its various advantages. Two of the major advantages are the ability to track the real-time status of campaigns and the ability to increase ROI with effective targeting methods. Also, the cost of digital marketing services is relatively less compared to mainstream marketing and promotional campaigns. 2018 is here and it will bring in more smart digital marketing technologies for marketers to reach business goals. We have gathered 10 trends for 2018 that are buzzing these days in the digital marketing space. Here's a list of the digital marketing trends that are expected to transform business in 2018:
1. Content has always been and continues to be the king.
According to a Smart Insights survey, marketers voted Content Marketing as a marketing activity that will create the largest commercial impact in 2018.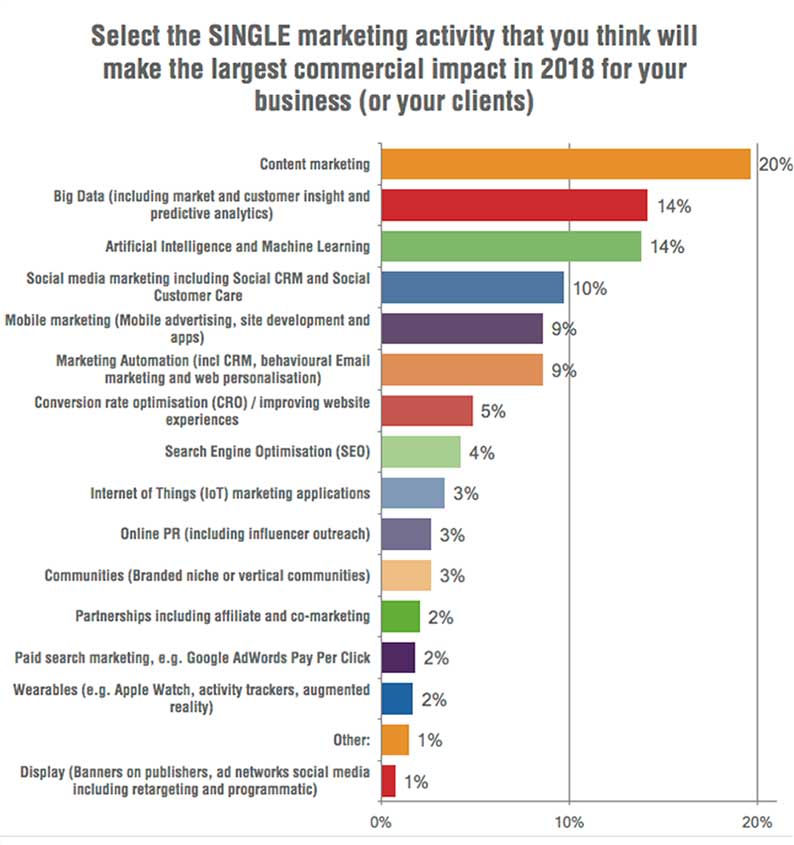 Every digital marketing company is geared up to create quality content in the form of articles, blogs, vlogs, memes, 360-degree images, videos, and more. Content marketing strategies top the list because great content drives user engagement.
2. The rise of Artificial Intelligence
Artificial Intelligence (AI) has surfaced with innovations like never before. Chances are you may have already interacted with bots if you have spoken to Siri, Alexa, etc. or if you had a chat with an AI bot on a banking site. Marketers are using AI and NLP to create smart chatbots to market and sell products and services to the tech-savvy target audience of their clients. AI plays a critical role in marketing because a digital marketing company works with huge chunks of data regularly for various clients.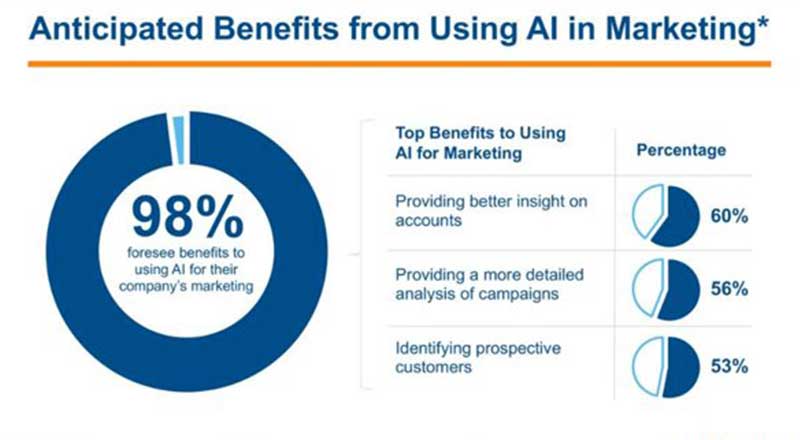 Image source: Forbes.com Whether you are a large conglomerate or a small business, every day you are generating data through your campaigns and it keeps piling up. AI helps to sort the data and make sense of it. Econsultancy lists 15 other examples of artificial intelligence in marketing.
3. Marketing Automation
Technology is leveraged by digital marketing service providers time and again to create the best campaigns. Marketing automation is key to creating personalized campaigns with the help of predictive analytics. Marketing Automation eases your efforts to manage all your online platforms, identify the areas where you can push your efforts, and offer a better experience to your online visitors or customers. Digital marketing service providers offer marketing automation services to their clients for raising their ROI. Marketo, HubSpot, and many other market automation platforms are available for marketers to choose from.
4. Virtual Reality and Augmented Reality
2017 has been a year with several Virtual Reality (VR) and Augmented Reality (AR) innovations. 2018 continues to be another amazing year with more and more marketers exploring these technologies for enhancing the customer experience. 360 photo tours and video tours of places have already been created by digital media service providers for several websites and apps.
5. Predictive Analytics
According to the campaigner, 2017 industry report card, 44% of marketers are expected to use predictive analytics in 2018. Decision-making for a digital marketing company and its clients becomes easier with forecasts available through predictive analytics.
6. Internet of Things (IoT)
8.4 billion things are on the internet today, according to Gartner. Many of the listed trends such as analytics etc. are interdependent on IoT. Marketers have to keep track of these technological evolutions to reach customers at various touchpoints.
7. UX/UI
According to CMO magazine, 2018 is a year of customer experience. Digital Marketing service providers who keep up with the industry trends focus on rich UX/UI experience as well. All efforts that are made to bring online users to a client's website will become futile if the website fails to engage the visitors.
8. Competition, innovation, and new developments in the digital marketing world
Google and Facebook continue to dominate the digital marketing landscape. They continue to report millions and billions of numbers in growth-related parameters. Every digital marketing company has to stay up-to-date with the latest developments from these companies as they compete for a larger market share. Having said that Instagram, Snapchat, and other online spaces where users love to hang out are also growing. Digital marketing experts should continue to keep an eye on their updates. Every year, big companies are acquiring small companies to add more power to their arsenal. Facebook bought WhatsApp to do that. In 2018, we can just wait and watch for more news on this kind of development. After all, it impacts the marketing strategies and the budget of digital marketing service providers.
9. Live Videos
In recent times, live videos have gained popularity. From corporate companies and sportsmen to movie celebs and influencers, everybody goes live streaming to engage with their Facebook users, introduce new products, discuss upcoming services, etc. From Game of Thrones crew to the Rock, everyone wants to grab the attention of Facebook users' lives. And why won't they, live videos get a lot of attention and love through comments and emoticons too? A digital marketing company with social media geeks can help you get this love from your online users and boost engagement.
10. Influencer Marketing
Heard of Gary Vaynerchuk, Vidya Vox, or Lilly Singh? These are influencers followed by millions on various social networking platforms. Any content that these influencers post is consumed by millions of their followers. 2018 is also the year of influencer marketing according to many experts. If you want your content to go viral, influencer marketing strategies created by expert digital marketing service providers can do the thing for you. With new technologies, rising competition among digital media platforms, and blooming startups, 2018 has a lot to offer for transforming your business. If you are a business, you need a digital media company with tech geeks who understand analytics as well as design from a UX perspective to climb up in 2018.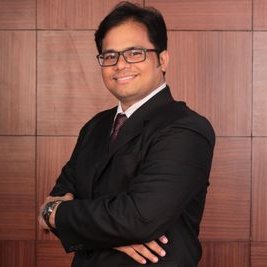 Written by:

Jitendra Raulo

Jitendra Raulo is the Founding Director at Aarav Infotech India Pvt. Ltd., a leading Web Design and Digital Marketing Company with 11+ years of experience and having headquarter in Mumbai, India, and Support Centre at Bhubaneswar, India, he is actively working with Start-ups, SMEs and Corporations utilizing technology to provide business transformation solution.