Introduction
Wondering what website maintenance really is? Here's an in-depth knowledge of it. Maintenance of the website is the act of reviewing the website periodically for bugs and errors and keeping it updated and appropriate. Website maintenance ought to be a major aspect for any business which uses a website as a core aspect of its company. Keeping your website updated is the most important thing because no matter whether your organization is small or big maintenance is an essential requirement. Periodical (Weekly, Monthly & Annually) maintenance not only ensures optimum performance but also helps prevent the time and money that is invested in your website.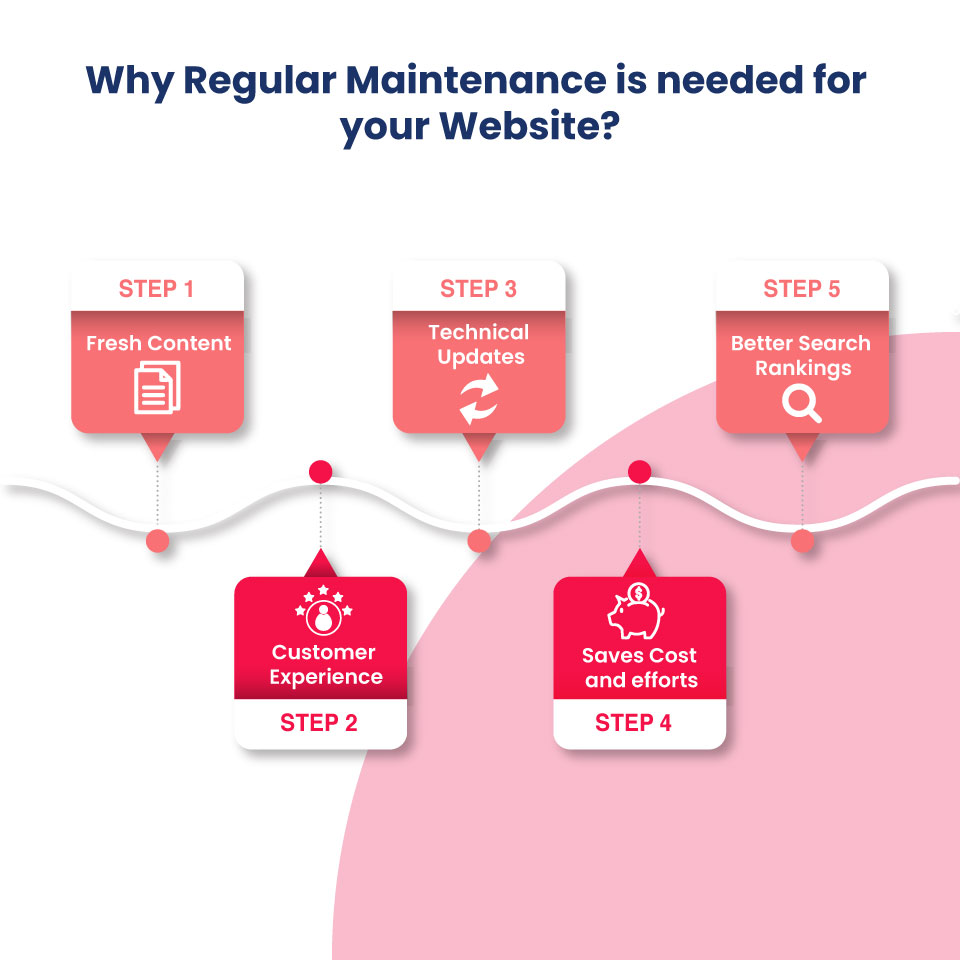 Challenges you might face not maintaining your website

Threat of recognition
If your website is not secured, it will be very easily infiltrated by cybercriminals and hackers; they will burgle it with valuable information. They will find it extremely easy to fool your customers once they get details about your clients. Besides the negative consequences, it would also harm the credibility of the customer and organization both.
Capital endangerment
If your website is designed in such a way that consumers can purchase through credit or debit cards, it is vital that you take the necessary measures to secure it. The hackers will store your customer information.
It may sound like a Movie screenplay, but in the majority of circumstances, that's what often happens. You and your shopper can be at risk of losing their hard-earned money if you do not regularly maintain your website.
Mislay of information
It's very easy to steal highly fragile and important information, such as business statistics, digital designs, e-mails and much more for a hacker who has access to your website.
Outdated design and quality
For your business to maintain or grow its legitimacy, your website must represent your brand in the best possible professional and coherent way. If you have a team who would be rejuvenating your website you won't have a headache for yourself.
Forfeiture of Backup/ Website Data
Intruders could get into your site and ruin it completely if your website is attacked. What would you do if you had a functioning website one day and then returned the next day, without anything?
Don't let this be a threat. You need to make sure that your website is backed up so it can be restored at a moment's notice if it ever goes down.
Misuse of valued Time
You will be spending the majority of your time in maintaining your website rather than growing your business. When business owners or operators decide to maintain their own website, they spend their time on tasks that often take a lot longer than expected. A well-maintained website is extremely significant but if a business holder wants to grow and maintain their website then they should let the experts take care of this for them.
Why Website Maintenance is Highly Important
Feeling novelty and consistency get your customers involved online. Website Maintenance Services guarantees your website persists with new content and effortless web surfing experience. The timely maintenance of websites is crucial for your overall growth. Then again, if visitors don't find value on your website or find it difficult to reach our offerings, you'll lose sales and the whole purpose of building a website becomes meaningless.
1. Security
Forms Trusts - Visitors would only connect or remain on a secured website with https tag in it. What would you like to see your customers not see the label secure or feel safe, too? Implementing SSL will help secure consumer data, and will make them feel that their privacy is important to you.
Protects revenue stream - Not all hackers are cyber bandits trying to steal data many of them just do it because they are foul they will launch spasms, crash your website and bring your website to a complete end which will cost you sales.
Secured business liability - If hackers are able to decrypt your website's valuable user data and declared you have not provided ample security measures to prevent it, your company will be held accountable in several respects and it will cost you.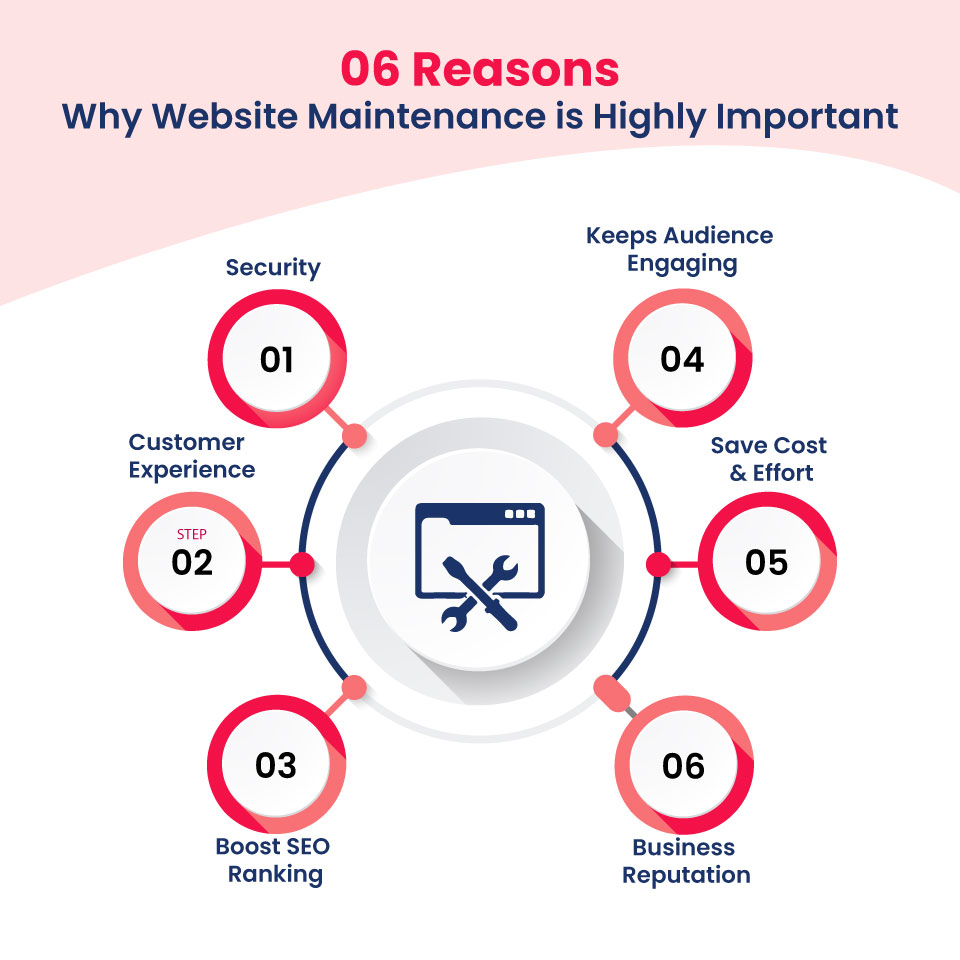 2.Boost SEO Ranking
Most SEO specialists believe the rankings of the website's search engines can be strengthened with consistently fresh content. Google's crawlers are giving priority to those websites which provide current and accurate information, according to the sources. Website maintenance also keeps track of broken links and error pages, so that search engines can easily crawl the website according to the sitemap.
3. Save Cost & Effort
Maintaining the website isn't just about adding new content or upgrading occasionally. Sometimes, people are under the pretext that, without much effort, website maintenance can be done by itself. Appointing a dedicated in-house or outsourced Website expert is a suitable decision for small and medium-sized businesses. And if people try to perform IT functions without technical expertise, they may end up creating problems that will affect website operations and the whole thing may turn out to be a more expensive affair.
4. Customer Experience
The year 2020 has brought a drastic change upon the market customer experience is overtaking product and price as the critical differentiator for branding. Faster websites, user-friendly web navigation, and customized content are essential for enhanced customer experience.
5. Business Reputation
The clients are looking for a firm that they can trust. But a poorly maintained website with tons of broken links, obsolete data and broken pages is a customer repeller. They would think your company is unimportant, old-fashioned and unprotected. Therefore, if you want to present your company in a significant view and develop yourself as a healthy and creative organization, maintaining it regularly is essential. Correct broken links; create new content, and redirecting old pages. You will only be able to create a good image and the customers' trust by doing so.
6. Keeps Your Audience Engaging
You will keep your audience interested and attracted by updating your website with fresh content. If you run an ecommerce store, you can update your description of the product and the images to entice more consumers. Only fresh information will give you place on the first page of the search engine result.

Website Maintenance Checklist
Monthly
WordPress Core Update
WordPress Plugin Update
Clearing Logs and junk files
Check your page load speed
Test your forms
Removed unused plugins or extensions
Remove any inactive admin users
Check your order processing
Scan & Resolve Security Issues
Check your local Search Visibility
Analyse Website Statistics
Quarterly:
Review the Website for any possible improvements.
Update Website Homepage Graphics and Images
Make Sure your website contents are up-to-date
Update Your SEO Meta Tags wherever needed
Test for mobile and browser compatibility issues and resolve
Test All form are getting submitted and the results are coming to your email id
Update All popup banners and call to action
Check with marketing team and do the required updates
Annually
Update Copyright Date and other date or year references
Review Content for Accuracy
Renew your website domain
Renew your SSL Certificate
Renew your Website Hosting
Review your overall website strategy
Introduction to AI Maintenance
Aarav Infotech is a Mumbai, India based web design and maintenance firm. Our services are delivered premium-effectively on time. We plan to safe and up-to-date your website to ensure your business does not face any problems. Our in-house platform expertise makes it easy for us to meet our target with a quick process. Let our experts in the field of web management, eCommerce, hosting & email, key platforms such as WordPress, Magento, CodeIgniter, OpenCart, etc. help you solve problems.
Get Website Maintenance Services from The Most Reliable Agency we offer -
Unlimited Standard Technical Support
Monthly website updates
Speed and security
15+ monthly checks
Bugs and fixes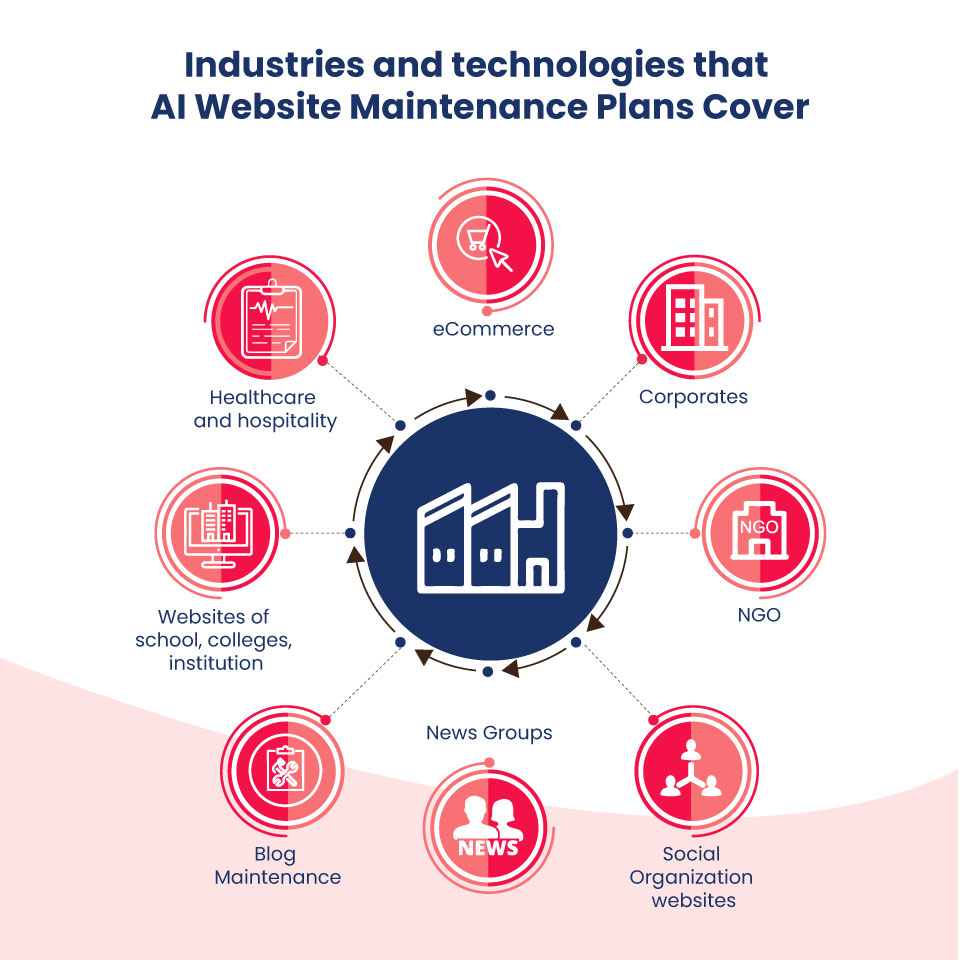 The AI Maintenance Best Practices to follow are
1. Website Auto Cloud Backup–
The advantages of our maintenance service are that you can add, edit, and update content as and when necessary. And we take frequent backups to guard you against disasters. When an accident happens we take full care to ensure a quick recovery.
2. Security Optimization–
Your website is the first Consumer contact. So, if your website is not secure, you lose your market and your customers too. And that's why our maintenance plan provides you with complete security-Brute Force protection, File Change Detection, 404 Lockout, Audit Logs, IP Lockout, Whitelist IP, Update Security Keys, Malware Scanning, Plugin & Theme Vulnerability Scanning, and Blacklist Monitoring, 2-Factor Authentication, Force Strong Password and Spam Protection.
3. Speed Optimization-
higher bounce levels affect your page ranking. Anything you can do to improve site speed will make your SEO targets more successful. There are many aspects you can change, and it should be at the top of your to-do-list to select the correct hosting platform. We at Aarav Infotech ensure you always load your website on time. Our speed checklist provides you with the best deals needed for your website, i.e. image optimization, CSS & JavaScript minification, GZIP compression, browser caching, database optimization, server-side caching and CDN implementation.
4. Website Health Check–
Experts check for website load time, proactive WordPress core update, proactive plugin updates, theme updates, website backup, clearing logs and junk files, database optimization, website malware scanning & resolving, comment spam monitoring & deletion, form processing check, broken link check, we also make sure to delete unused plugins and themes, Port 80 Check (correct if any problem found).
5. Performance Optimization–
Our highly focused checklist of maintenance ensures that your website performs at its best. We are upgrading your eCommerce store or WordPress Website to provide the best experience for your end-users.
6. Tech Support–
Our tech support Squad will keep you posted via our auto ticket management system. We guarantee most tickets are resolved within 24-48 hours. We also provide monthly activity reports, suggestions from developers, monthly request insight reports, monthly website traffic reports, monthly uptime reports for the maintained website.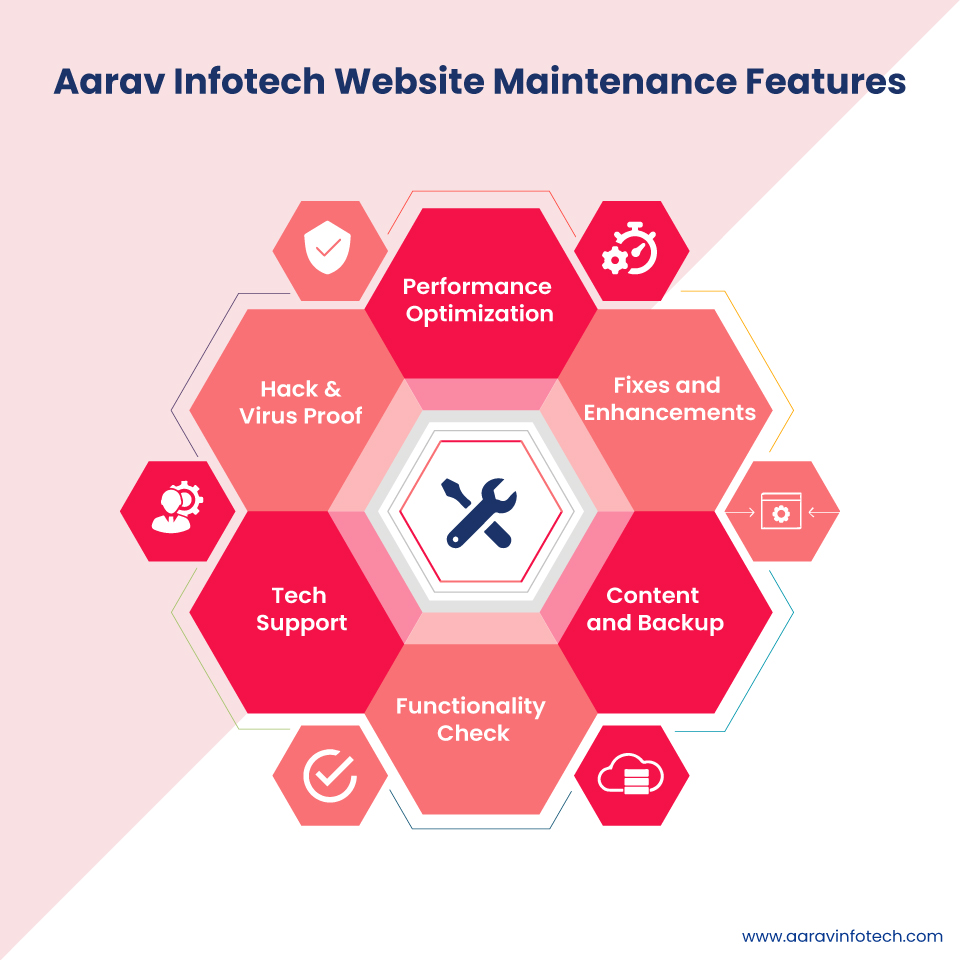 With Aarav Infotech…
Our maintenance system on your website ensures your site is still updated and stable. Our standard program includes updating content, updating images, and providing support via phone and email. From WordPress Maintenance to eCommerce Maintenance, we provide all kinds of website maintenance and support services to ensure your online marketing's short as well as long term success. It also involves revising, updating, or otherwise modifying existing web pages in order to keep the website updated.
Our Benefits will be Leading to Peace of Mind
Elevated Performing Website - Our stringent maintenance checklist ensures the website has the best results. All performance improvement tasks are planned through our automated CRM system. We also ensure that your full report is transmitted to you through our transparent framework.
SEO Enhancements - since the content is frequently redesigned, traffic comes from search engines, and therefore the number of visitors increases. The redesigned website interacts with the target audience and contributes to converting visitors to leads.
Uptime Monitoring Report - Our CRM monitors the websites 24x7 for any trouble with downtime. If there is to be some downtime, an instance will be generated and our team will be notified for activity. A full report will be published on a monthly basis.
Infinite Support – Besides from change requests, you receive unlimited technical support such as website down, hack, form not working, spamming, troubleshooting, etc.
Audience Insight Report - Our monthly Audience insight report will help you understand about your visitors and their behavior.
AI 15+ Conversion Booster Pack - This is an additional feature that boosts website conversion through proofs and popups.
Automated & Predefined Website Maintenance Process
Aarav Infotech has a predefined process and team of technical experts to work on your maintenance projects. Our CRM Ticket system helps here a lot. Also, it gives you a way to communicate with tech team directly.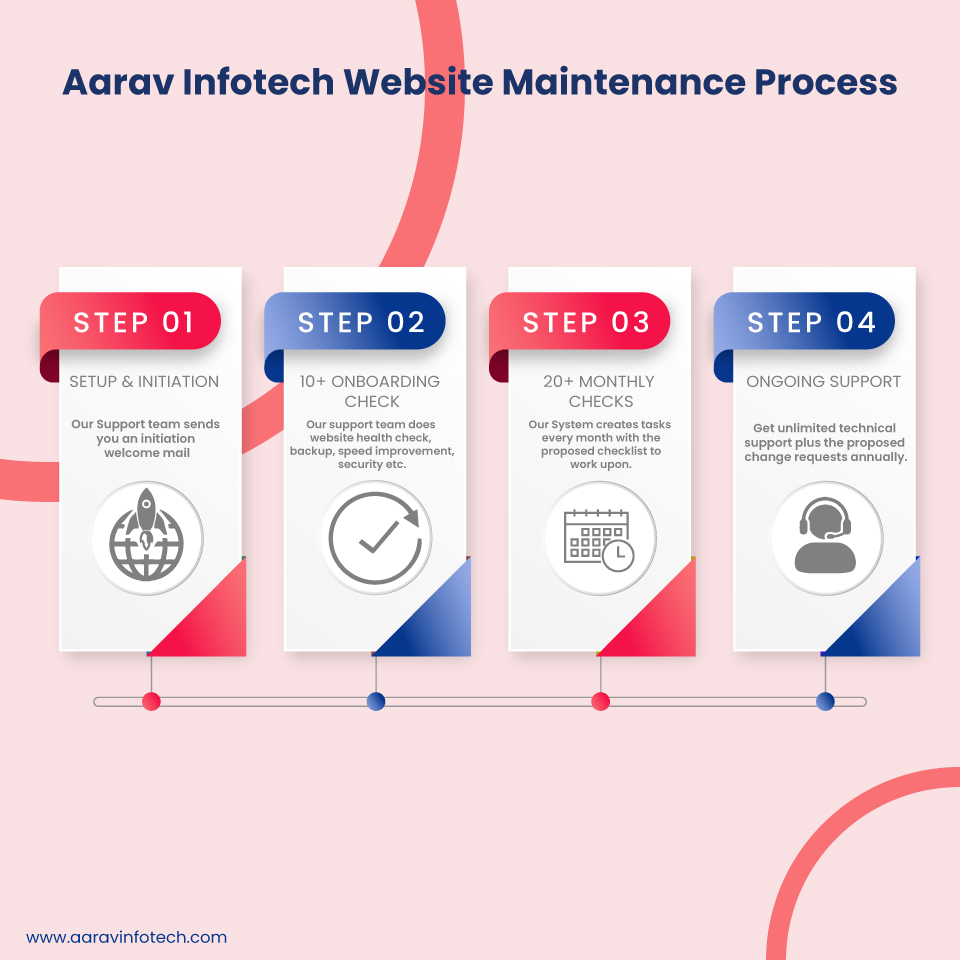 Our maintenance plan is focused on 6 foundations-
Testing effectiveness - Our comprehensive maintenance checklist ensures the website has the best results. All performance monitoring tasks were executed via our integrated CRM system. You will also receive a full monthly report through our support team.
Tech Aid - Our Auto Ticket Management System support staff will periodically get in contact with you. Our support team also connects when necessary, via call or email. We make sure most tickets are resolved on the medium in 24-48 hours.
Backup and Content - As part of our maintenance program, you can add, change and update data, as required. We are taking a full backup before any major update. The customer can make the backup on demand, if necessary.
Fixes and enhancing - To keep the website bug-free we regularly conduct safety checks and upgrades. Our team handles any issue by plugins from third parties, or the core itself. The solution to your problem should be top priority.
Examine for Interface - We confirm whether all the forms work correctly and if e-mails are obtained. We also search for and fix any broken link on the web. Broken links are a bad sign for SEO, so it helps to maintain a strong SEO health score.
Attack & Bug Proof - We prevent and safeguard against hacking, malware and viruses. In any unfortunate case of hacking or malware our team gives priority to addressing this problem. And we're going to stay in sync with you till the issue has been resolved.
We Provide 100% Website Protection -
Our website maintenance program ensures your site is always optimized and protected. Our Maintenance Program includes updates, images and support via phone and email. We have all sorts of online website maintenance services and WordPress maintenance support for eCommerce management, ensuring both short-term and long-term performance in online marketing.
Conclusion
We are all aware of the value of a well-designed web site. Yet just getting the site up and running isn't enough. Regular updates and website maintenance are essential to ensure your website runs adequately. When your website is not well maintained, you will lose valuable customers - and that will impact your business' performance. Aarav Infotech has a predefined procedure and a committed professional team of experts to accelerate the maintenance projects. As proposed to our valued customers, we have our CRM system to address each line item. We also do these activities each month and this also gives you a way to communicate directly with the tech team. We deliver our services cost-effectively under timetable constraints. Our goal is to keep your website secure and up-to-date, to make sure your website's growth is not a problem for your company. Now, let our experts maintain backups, updates, security improvements, and more to make your website run effortlessly.
Get Support On The Go
Download Our App. Easy to manage your requests, invoices, services, and much more.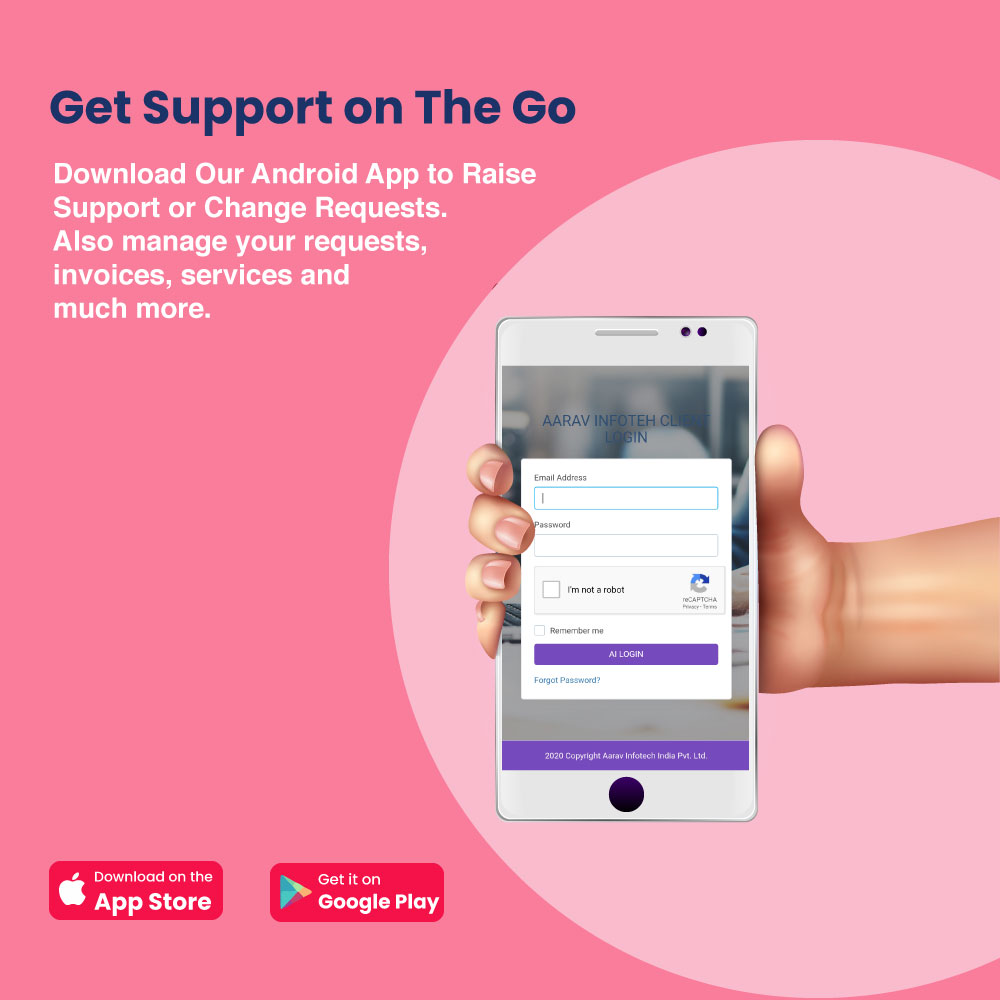 For more thought provoking articles on Web Design and Digital Marketing read our blog at www.aaravinfotech.com/blog
© 2020 Aarav Infotech, Written by Riddhi Shah
110, First Floor, Millennium Plaza, Sakinaka Tele Exchange Lane, Andheri (E), Mumbai, Maharashtra, 400072
Email: [email protected]
Posted by:

AI Digital Team

We the team of Aarav Infotech being technological experts, have 9+ years of experience in content marketing and blogging. We invest our time in Research and Development to fine tune our information that we provide through our blogs. We have team of ace professional to embrace innovative ideas to provide you with the latest and up-dated information about the changing happening in the digital world. Our main motive is to share ideas and thought with effective blogging.