Novelty and consistency in experience engage your customers online. Website Maintenance Services ensure that new content and seamless browsing experience continues on your website. Timely website maintenance is critical for your business growth. After all, if customers don't find value on your website or find it difficult to gain access to our offerings, you will lose sales and the whole purpose of building a website becomes pointless.
What you will learn?
What does the website maintenance program contain?
Website Maintenance Checklist
10 Essential Reasons
What should a website maintenance program achieve?
It should keep your website content up-to-date
Identify and resolve issues or errors on your website
Manage spam comments on your website
Supervise your website hosting
It should manage technical and other changes
#1 Security
Your Website is the first customer touch. So if your website is not safe you lose both your business and your customers. These are the top 3 reasons why website security is important for business success.
Security of corporate liability - If attackers can hack valuable consumer data from your website and is deemed that you have not provided adequate security measures to prevent it, your company will be held accountable in several respects, and it will cost you.
Shields your revenue stream - Not all spammers are cyber pirates trying to steal data several of them just do it because they are nasty they will launch attacks, crash your website and bring your business to complete cease which will cost you sales
Builds brand and Customers Trusts - Customers would only access or stay on a website that is secured and has https tag in it. Also, what would you rather want your customers to see the label not secure or feel safe? Implementing SSL will help you protect customer's data which will make them believe you care about their privacy.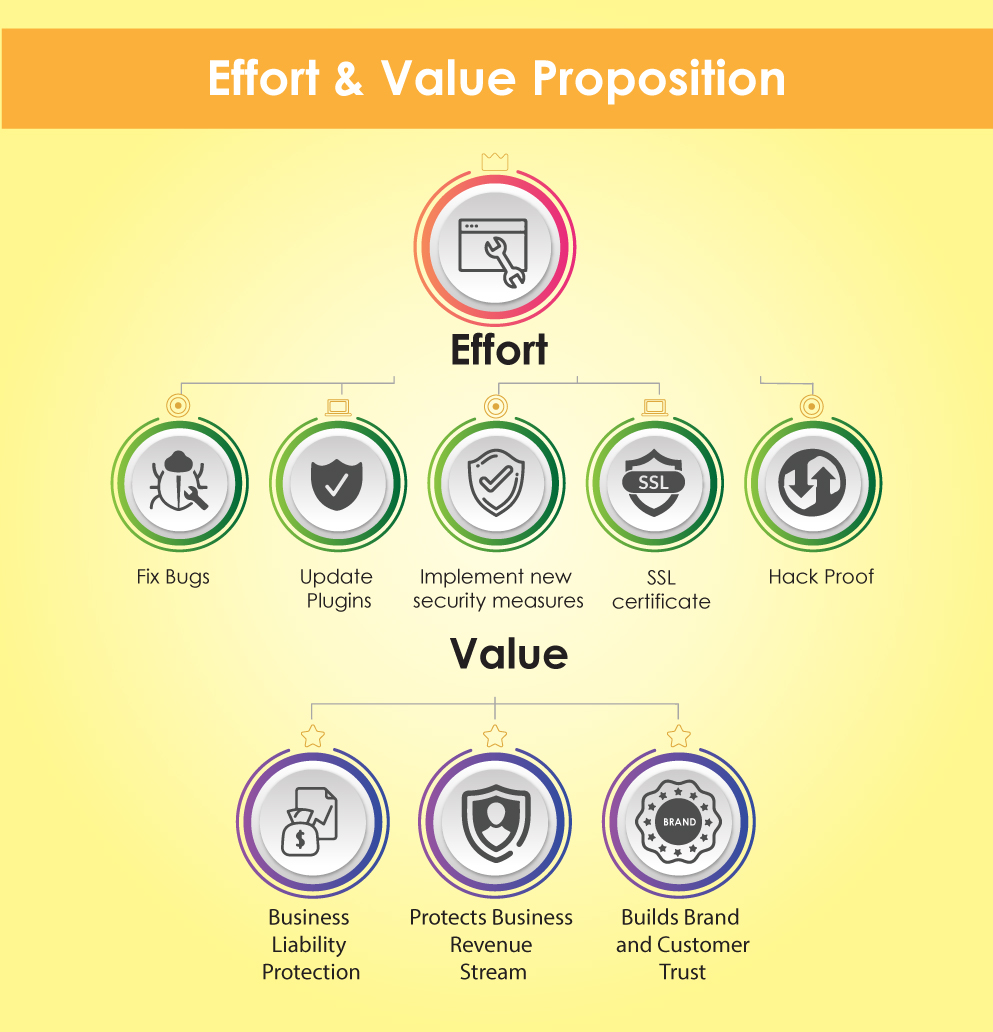 #2 Customer Experience
According to a report by Walker, by the year 2020 customer experience will be overtaking product and price as the critical differentiator for branding. Faster websites, user-friendly web navigation, and customized content are essential for enhanced customer experience.
#3 Boost SEO Ranking
Many SEO experts believe that the search engine rankings of your website can be improved with consistently fresh content. According to the experts, Google's crawlers give importance to those websites that provide relevant and updated content. Also, regular website maintenance takes care of broken links and error pages so that search engines can crawl the website as per the sitemap effectively.
#4 Keeps Your Audience Engaging
By updating your website with fresh content you can keep your audience engaged and attracted. If you are running an eCommerce store, you can update your product description and images to attract more buyers. Even fresh content may give you a position on the first page of the search engine result page.
#5 Save Cost & Effort
Maintaining the website is not just about adding new content or occasional upgrades. Sometimes, people are under the pretext that website maintenance can be done on their own without much effort. Hiring a dedicated Web specialist in-house isn't a viable option for small and mid-sized businesses. And without technical expertise, if people try to perform IT functions, they may end up creating issues that will affect the website operations and the whole thing may turn out to be a more costly affair.
#6 Business Reputation
Customers are looking for an organization they can trust. However, a poorly managed website with lots of broken links, obsolete content and broken pages is a repeller for customers. They would believe your company is insignificant, old-fashioned and vulnerable.
Thus, if you'd like to show your company in a positive light and develop yourself as a healthy and creative organization, it is important to maintain regularly. Fix the broken links, create new content, and redirect the old pages. Only by doing that would you be able to achieve a positive impression and the confidence of your customers.
Website Maintenance Checklist
Monthly:
WordPress Core Update
WordPress Plugin Update
Clearing Logs and junk files
Check your page load speed
Test your forms
Removed unused plugins or extensions
Remove any inactive admin users
Check your order processing
Scan & Resolve Security Issues
Check your local Search Visibility
Analyze Website Statistics
Quarterly:
Review the Website for any possible improvements.
Update Website Homepage Graphics and Images
Make Sure your website contents are up-to-date
Update Your SEO Meta Tags wherever needed
Test for mobile and browser compatibility issues and resolve
Test All form are getting submitted and the results are coming to your email id
Update All popup banners and call to action
Check with the marketing team and do the required updates
Annually:
Update Copyright Date and other date or year references
Review Content for Accuracy
Renew your website domain
Renew your SSL Certificate
Renew your Website Hosting
Review your overall website strategy
Posted by:

AI Digital Team

We the team of Aarav Infotech being technological experts, have 9+ years of experience in content marketing and blogging. We invest our time in Research and Development to fine tune our information that we provide through our blogs. We have team of ace professional to embrace innovative ideas to provide you with the latest and up-dated information about the changing happening in the digital world. Our main motive is to share ideas and thought with effective blogging.